Looking for ways to make extra money? Perhaps you're a hard-working student with a full course load during the week or you're a visionary busy with his job and want to fund your dream business idea on the side – there are a bunch of flexible weekend jobs out there that you can latch on to! 
The good thing is that it does not matter whether you have a degree or not, there are plenty of easy jobs to get with no qualification. Even better news? You can land a high paying job without a qualification as well.
Ready to start rolling in the quid? Here's what you can do:
Driver
Becoming a driver for driving apps such as Uber and Lyft can allow you to earn £18.20 per hour on the weekends. It's usually the only time when people are able to go out and unwind at their favourite restaurants, bars or hit the movies. Prospective clients will prefer to hire rides over to their destinations so that they do not have to worry about parking issues, fees and such. You can also apply to other companies for different driver jobs.   
To qualify as a reliable driver for such apps, you need to have a strong sense of direction, have experience driving, a valid driver's license and a functional car in good condition.
You can also improve your chances of earning tips by providing your customers with a positive ride experience. Invest a bit of your precious quid in some chocolate giveaways, water bottles etc. Offer to them to your customers as a bonus and see your tip meter soar on your app!  
Tutoring
Are you a natural at teaching? Then, tutoring may just be your weekend calling! It's one of the most popular weekend jobs chosen due to its flexibility in timing and good pay. If you're specialised in something, go ahead and share your tree of knowledge in that particular sphere.
You can always opt to teach in person, at home or via online. Be your own boss by setting hours that work for your schedule as well as your own students. If you wish to start your career as a tutor, there are plenty of tutoring jobs you can apply too.
Caretaker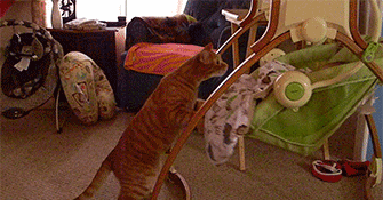 Got feline instincts like this fellow above to look after people? Then, perhaps a weekend job as a caretaker will be the ideal way to boost your monthly income. Your primary responsibilities will include providing support to those individuals who require it – be it children or elderly people. You'll help them out with their normal tasks such as personal care, shopping, cooking etc. Giving emotional support is part of the package as well. To start your career as a carer, you'll own a sensitive, nurturing nature that is empathetic to your clients' needs. Ready to start your journey as a caretaker? Here are some caretaker jobs you can launch your weekend job career with! Given the ongoing COVID-19 pandemic, these jobs are on the rise!
Remember that whenever you're applying for weekend jobs, you want to try and take up a role where you'll be able to earn a reasonable amount of income and enjoy what you're doing as well. You're giving up a few hours of your precious weekend time to earn those extra sweet pounds. Download the JOB TODAY app and start your job hunt now. Best of luck!