Team Member
Yolk serves the best fast food & coffee in the City, and we're growing fast!
We're looking for a passionate & friendly personality to join our team, working across both Front-of-House and the kitchen.
We offer:
- On-the-job training (for every role)
- 2 free meals per shift & free hot drinks
- Paid breaks
- Initial salary: £9.00 (£9.25 once trained)
- Opportunities to grow within the company
- 50% food when not working
- Great vibes
- Start date: 6th April
If you're an early bird and love a fast-paced environment, we'd love to hear from you!
Note: Due to the high volume of applications we unfortunately can't respond to everyone.
Experience

Not required

Languages

English – Advanced

Employment

Full-time

Schedule

Flexible

Salary

£9 – £9.25 hourly

Benefits

2 free meals per shift & free hot drinks
City of London, London
Gourmet takeaway • 1-10 Employees
Hiring with us since February, 2018
Yolk serves 'Fast Fine Food' - we aim to be the delicious, exciting grab-&-go option for busy Londoners. We have a great team and we're growing fast. We're looking for positive, motivated team members - get in touch if that's you!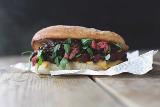 Hiring by
- -
Active 21 days ago